Fly-in-Safari
4th Lodge: Vundumtiki Wilderness Camp,
Okavango Delta, Botswana (29.09-02.10.2003)
[click on the pictures to enlarge]
| | | |
| --- | --- | --- |
| | Another 1-hour flight plus a 2-hour drive through rough terrain finally brought us to our last camp in the beautiful Okavango Delta. Big herds of Zebra and Wildebeest and a rare Sable antelope (right) were the first good shots... | |
| | | |
| --- | --- | --- |
| The camp itself was phantastic ! Instead of cottages we had big safari tents built upon wooden platforms one meter above the ground | | Luxuriously furnished, with two washbowls and two showers plus a small deck with a view of the flood plains (where I even watched a Kingfisher in action the first afternoon) they were really nice. |
Left: our tent - they were all situated with a lot of space between them.
Right: the bar was small but comfortable
The best of it all was the second shower - an OUTSIDE Shower ! Flanked by wooden fences on three sides but open towards the Flood plains and the sky above
You could take a shower while watching the wildlife - Wow ! My absolute favorite...

(left: Sandy on her way out there...)
| | | |
| --- | --- | --- |
| | During our game drives here we saw baby crocodiles (left) and even a huge tawny eagle circling above our heads (hmmm... he reminds me of that guitar Iīm still hot for... right, Tich ?) | |
The second day brought us a phantastic familiy of four lions - all fed well and dozing the day off. We got to them just before sundown when they got alive again. A beautiful peaceful sight. And once again one of the youngsters looked at me as if inviting me over for some cuddling (right photo - it was really hard to resist - they acted more like usual cats than like wild animals that evening...)
| | | |
| --- | --- | --- |
| | The boy even went over to his mum then to help her with some difficult places to clean - she enjoyed it for some minutes and then both of them just slept on... what a sight ! | |
Meanwhile the big one woke up and rolled over a few times - just like ordinary cats after a big meal...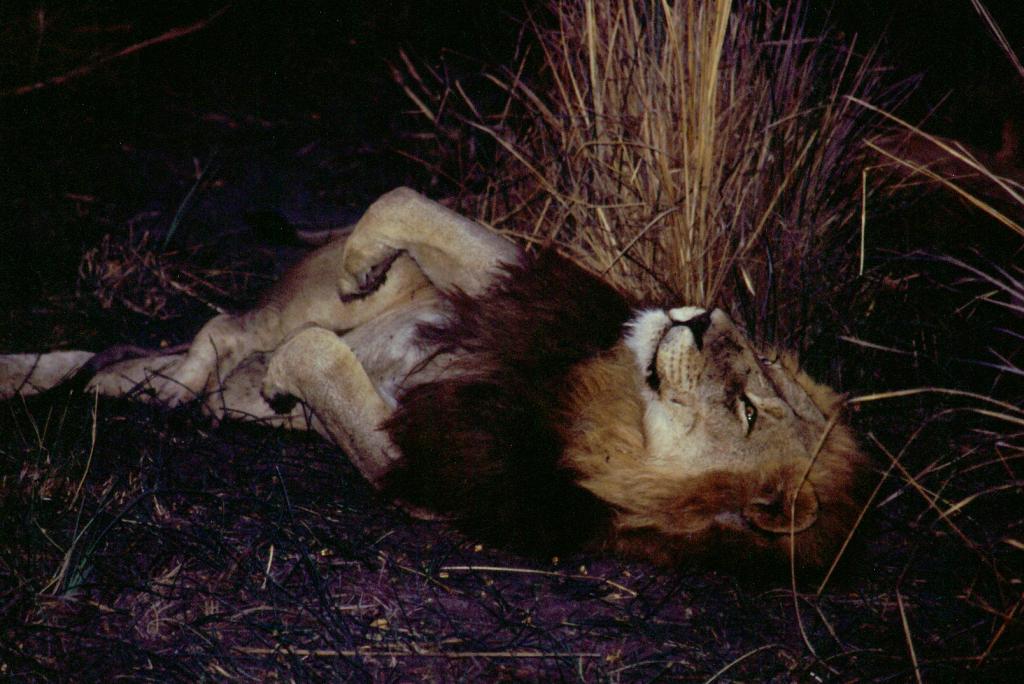 | | | |
| --- | --- | --- |
| The last full day we went out on a mokoro on the flood plains of the Delta - through 2-meter high pampas grass | | the water was not very deep and sitting in such a canoe makes you feel like you just swim. And that water was clear down to the ground ! Great ! |
Left: one of the colorful Reed Frogs, you could even stroke them (and yes he was grown-up - they get to be about 3-4 cm big but they can raise hell with their croaking in the night...)
Right: Our mokoros at the stop on a small island
| | | |
| --- | --- | --- |
| This is the famous Marula tree - when it carries its yellow fruits most animals come to snatch some of them ... | | ... while humans take them to prepare that delicious Amarula cream liqueur ! (Anyone got a fresh bottle for me ???) |
On the way back we saw a spider suddenly pass on those leaves of the water lilys, fast as lightning...

Right: a close-up of one of the water lilys - even with a "houseguest"...
| | |
| --- | --- |
| On the day of departure, when we just had packed up everything, I suddenly looked up within our tent because I saw something - and almost could not believe it: a scorpion ! Luckily he did not find his way into our beds the night before.... But quite a sight for a photographer... | |
Well, so after 12 adventurous and impressive days our Safari was coming to an end - a last 2-hour drive back to the airstrip where our Cessna was waiting (down), a flight back to Vic Falls, a flight to Johannesburg where we had to kill 6 hours (shopping for some souvenirs - and some Amarula hehe...) and a much to long 10-hour flight back to Frankfurt brought us home - but our heart stayed in Afrika much longer - and I will definitely go back someday !
Well, those were just 102 Photos from that trip - altogether I had shot 800 (!!!) slides and thatīs not counting the ones I discarded... I hope you enjoyed them !

Although I regretted that we never actually saw a Cheetah (well, we had seen some tracks and Matto had got a glimpse through the binoculars...) or a Rhinoceros we at least got two very rare sights - a Leopard in the night (sorry, only on video, he was hiding in the underbrush too fast for switching to the camera) and a Civet Cat (but too far away for my camera). Altogether we many animals and all the sundowns were phantastic. The food was fine, too and all the people we met were friendly and full of fun. Well, if you ever want to experience Africa at itīs best I can only recomment such a trip ! Although it was very expensive I absolutely enjoyed it ! I hope you got at least a small impression of the beauty and fascination Africa holds for us !