freiburg 10. december 2004
[click on the pictures to enlarge]
My first real double concert weekend after many years ! Necdat joined me again – actually he had no choice since I had invited him on the first show as a birthday present. And so we headed for south Germany again. Both our guitars in the trunk, with some presents from me for the Dozies and my ever present camera at my side …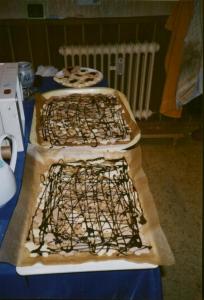 Actually the weekend started with a bit of chaos. I had planned to give a bag of freshly made biscuits (Thank you Johnboy !) to each of the Dozies and so had been in the kitchen almost every afternoon during the week – even experimenting with a few new recipies. Thursday afternoon when Necdat was about to arrive I had a little mishap in the kitchen – accidently having thrown a rubber band into the oven it started to smell ugly – I managed to vent the kitchen but it threw my time plan into chaos, since I had to clean the oven first before I could continue with baking. Somehow we managed to get the biscuits ready, they just needed to cool down and the glaze needed to dry. So I could only pack them up in the morning. In the meantime Necdat and I did a few run-throughs on Je te donne – the song I had picked to perform during a possible jam session. We both had been practicing more or less, but on our own. Now trying to get it together was not so easy…
So actually I was in no good mood in the morning – I had to get up an hour earlier to get everything packed up and then the usual obnoxious task to find out the hotel was also up to me as usual. I did find out something at last – and then we finally got on the road. The weather was okay, not really sunny but dry and quite cold. We talked a lot and listened to the usual ELO cassette and shortly after 2pm we arrived in Freiburg.
After losing our way once as usual we also made it to the hotel – only to find a very ugly building that surely must have been a mistake. But since it was booked solid we started for another and found a nice one very close to the hall. There we chose to have lunch and wait for Anja who joined us as well.
After another look at that weird hotel – and finding no one of the usual people around we were quite sure it must have been a different one. It later turned out that they had cancelled the reservations there on short notice and taken quarter in the Intercity hotel at the station.
We barely managed to get there before the Dozies went over to the hall for the soundcheck. Tony joined us in the lobby for a while – talking about Gary Gibson again and how the Dozies had landed in Basle this time. When John and Tich came down we talked a bit with them as well. Tich was a bit surprised when I asked a few questions about his guitar. Recently a friend of mine had told me that it was a PRS and I had hurled myself into finding out more about the guitars the Dozies play. Where Tonys Godin had no appeal to me I got quite hooked on those PRSi and so I just had to confirm my suspicions. So Tich was a bit surprised (actually it´s now written sur-PRS´d
). Guess he does not often meet fans who talk about the instruments – especially female fans. We also laughed about John when Tony asked him if he finally had gotten some sleep and he answered with an undecisive "yeah… no." Reminded me of my best friend Berna…
Well, after they had left for the hall we stayed a while longer until we had to amble over there as well. Since it was a Friday we decided that less than an hour surely must be enough. How right we were – even 20 minutes before opening time there were a merely 30 people around ! Rudi Hauptmann (the promoter) had a heart and opened the doors himself and even a few minutes before the given time and so we rushed into the first row. Aahhh… Stop. Did I say rush ? Sorry, I meant we leisurely walked over – with just 50 people it was such an unhurried trip we were surprised. Especially me who has been to numerous Smokie concerts where – when you can´t run like hell you don´t have a chance for the first two rows. Now we had the run of the whole stage to choose our place. Really funny.
Necdat and I were the only ones standing right in front – all other people went directly to the tables that were set up 10 meters farther away (at least). Well, I did not care, we made ourselves comfortable there and talked a bit more. What was really funny was that all people headed for the tables – in the end I guess there were 600-800 people in that small hall – but only a few gathered in front – until the first band came on stage:
The Spencer Davis Group. After some introducing words people were couraged to come forward – which they did (at least for the performance). We had seen the Band 5 weeks before in Wolfsburg and were looking forward to their great improvisations again.
| | | |
| --- | --- | --- |
| Spencer himself is always fun – especially when he is explaining a few things in his quite good german. And as a musician he is great as well. | After my recently revoked interest in playing guitar I started to watch them all more closely. It´s really interesting how your view of a band can change. What I like about the band is that they exchange lead and rhythm parts between the two guitarists. | |
Plus lead vocals as well, including Eddie on the Hammond organ. Their version of House of the rising sun is a favorite of mine, and apart from their classic hits Gimme some lovin and Keep on running they also played a phantastic version of Chicago´s I´m a man.
| | | |
| --- | --- | --- |
| | Colin on bass is the one I admire most among them – playing with such an easiness – even a phantastic solo – and still smiling all the time, looking as if he played with both hands in his pockets. Great, really great. | Oh and german drummer Stefan had his usual bombastic solo again ! That really rocks the house ! |
They hurried away since they had a second gig on the same evening and we settled and prepared for Marmalade who were next to come. When I turned around though I was surprised once more – all people had vanished again ! In Wolfsburg it had been leisurely as well, but this beat it all. And the best was yet to come: when the next band came on stage people came back to the front at the same place they had been standing the band before… I wished Smokie fans were that civilized for once…
Altogether it was a wonderful performance, with all the usual hits and the audience really enjoying it – although turning around a minute after they had left the stage showed them back at the tables again. They must have had excellent catering there…
The next band would complete a circle for me – it had been the first band on stage on my very first concert in October 1991 and since then I had not seen them again: The Rattles.
Then it was time for the last break. Getting my camera ready once more, watching Beaky prepare his timbales and cowbell – this time without big trouble – Tich was the one making us smile this time during preparation: checking his amp with a big slap on top while having his ears practically on front of it – "Hellooo…". Luckily they don´t need too much time for preparations – and so they started again: Dozy, Beaky, Mick & Tich with the usual Hold tight / Hideaway combination.
They also plunged into their 60s medley of songs from other bands – Sweets for my sweet, Bend me shape me or No milk today were just great to hear from them. Beaky and Mick on alternating lead vocals are outstanding
After that we were really exhausted. We ambled over to our hotel to freshen up and then headed back for the Intercity hotel.
When we arrived – Necdat and I with our guitars plus me with that big bag full of biscuits we came right on time – actually the doors were closed, and we were already thinking "what now ?!" when we saw Tony coming out – he was protesting and hungry (well, he always is I guess

) – he found it ridiculous that the hotel bar had been closed long before and wanted to get something to eat – well. So we three just came along and on the next corner Tony spotted a McDonalds and went right in. Picked up a salad and some fries and then we went back to the hotel. Tony was about to ring the bell when Tich saw us through the glass doors and came forward to open them. He, John and Christoph were on their way out to get something to drink while we four sat down in the lobby and talked.
It was a nice quiet evening, with some laughs and a lot to talk about: computers, guitars, especially the Vault of the Hard Rock Café where Tony is guiding tours from time to time, the Beatles, Gary Gibson and music in general. It was phantastic. Only trouble was it was no place to unpack the guitars, they surely would have thrown us out. But at least I got out my santa cap and picked Tonys bag of biscuits and went over shouting "Ho ! Ho ! Ho ! " Everyone laughed – and Tony was quite surprised, especially when I told him I had made them myself. Including italianlike amarettini and some bisquits formed like music notes. He liked it.
What he did not like though were the fries and the salad – seems like he has a gourmet palate. The least we could do was to go over there again and get him a hot chocolate – when Anja and I came back though I found it had not been a good idea to leave Necdat with Tony – when we later talked about the internet and I said I don´t have broadband because it´s so expensive Tony just said "I thought you were rich ?!? – he said so…" pointing to Necdat… grrrrr.
Anyway, soon someone was standing in front of the glass doors again – and Necdat let the other three back in – with John lurching in first – oh what a sight – and it had only been a bit over an hour ! – seems like they had been out there speed drinking. But it only added to the fun – I put my red cap back on and came forward with my other two packages of biscuits – with Tich and John being absolutely surprised and delighted ! I really had to laugh when Christoph reached out for Johns package and he put it close to his chest turning aside – meaning "MINE !" – the same move that Tony had made a few minutes before when Anja had wanted to look at his package ! Just great. And even Tich followed suit when John wanted to look at those clefs I had put in – unfortunately one at the rim had been broken, but Tich promised he would take care of the others… We talked and laughed a bit more and actually everyone was ready for the night – so after a closer look at some funny head figurines in a glass vitrine that they said looked just like Dozy and Dave we said good night.
Well, it would be a short one as usual during concert weekends, especially on a double. If you want to know what more happened the day after in Reutlingen, take a look here: